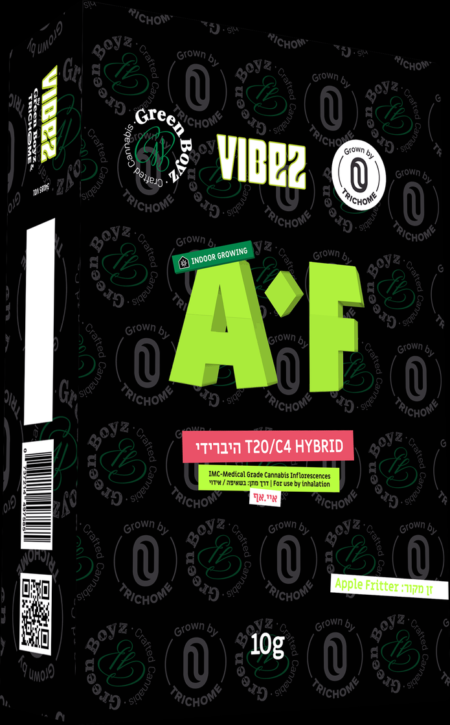 A.F (en)
We are excited to present to you our new and first strain of the VIBEZ Brand by Green Boyz & Trichome, we chose Apple Fritter as our first strain from Nasha Genetics.
This product is hand-picked, hang-dried and hand-trimmed. Our flowers are sorted and hand-packed all the process is being fully monitored at all stages of production.
All other processes are carried out to the standard reserved for craft products and are carried out carefully and precisely, in order to reach the highest quality product without compromising on any stage.
Features
NAME:

A.F from the origin strain Apple Fritter (Category: T20 C4)

BRAND:

VIBEZ by Green Boyz & Trichome

CATEGORY:

T20 C4

Genetics:

Origin strain: Apple Fritter, a cross of Animal Cookies and Sour Apple

APPEARANCE:

This strain produces high THC flowers, large and dense coloured in light green with purple touches, the flowers are rich in shiny trichomes and orange hairs.

DOMINANT TERPENES:

Limonene, Caryophyllene, Pinene, Myrcene (link to Terpens lab tests)

AROMA & FLAVOURS:

A.F has a unique and rich Aromas and Flavours profile, the Gas aroma and the pungent fruity aroma characteristic of this Pheno awakens the senses at once and provides a unique flavour and aroma experience.

The unique and careful Curing process that A.F goes through, like all of VIBEZ products, creates a final product that is both rich in aromas and flavors and provides a smooth and pleasant vaping/smoking experience.

The Gas Flavours are well-known to those who have experienced the top strains in the legal North American markets.

REPORTED EFFECTS:

Consumers report that A.F is a balanced hybrid strain, suitable for use during the day and/or night when measured consumption will lead to an increase in creativity, energy and mood. With increased consumption the feeling tends to be more INDICA, a feeling of release and relaxation that spreads from the center of the head to the rest of the body while alleviating chronic pain and anxiety.

We advise unexperienced patients to start with a gentle and measured dose.

GROWUNG AND POST HARVEST:

This Strain, like all VIBEZ products, is grown at TRICHOME's indoor facility, one of the most advanced facilities in the world, by skilled and experienced staff under controlled conditions and in a unique and sterile environment, this care allows the plant to thrive and not be exposed to damage factors that may damage the product.

This product is hand-picked, hang-dried and hand-trimmed. It is then sorted and hand-packed and fully monitored through all stages of growth.

All post-harvest processes are carried out to the standard reserved for craft products and are carried out carefully, in order to reach the highest quality product without compromising on any stage of the process.

SYMBOLS: